Vaginal Dryness Can Affect Your Vaginal Health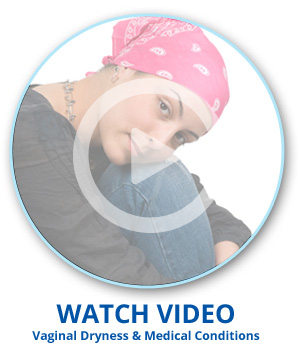 Although it is not always easy to talk about, vaginal dryness is a very common issue faced by women who have had cancer and undergone treatment. In cancer survivors, symptoms of vaginal atrophy (such as vaginal dryness, itching and burning) have a negative effect on quality of life and may even affect adherence to cancer treatment. While vaginal atrophy can be a side effect of treatment from various types of cancer (cervical, ovarian, uterine, etc.) it is more common and more severe in breast cancer patients.
Vaginal Dryness in Cancer Patients
For many women, cancer treatment can lead to early menopause, by forcing a premature start to estrogen loss. This is also known as treatment-induced menopause, which can be caused by:
Chemotherapy
Hormone therapy
Radiation therapy
Risk-reducing surgery (removing ovaries due to ovarian cancer)
Since estrogen is responsible for keeping the vaginal wall elastic and moisturized, when the body experiences estrogen loss, glands in the vagina stop producing moisture and lubrication regularly. This leads to vaginal dryness.
Vaginal dryness is also one of the symptoms of menopause. For women who are already postmenopausal, cancer treatment may worsen vaginal dryness.
Vaginal Dryness & Sexual Discomfort
Many women undergoing various cancer treatments or in remission, often find themselves experiencing painful intercourse (also known as dyspareunia) related to vaginal dryness. It may seem like a small aspect in comparison to cancer, but vaginal dryness and associated discomfort has been associated with decreased quality of life, and almost one-third of women with vaginal dryness have concomitantly lost interest in sex.
Vaginal dryness can occur as a result of cancer treatments due to a decreased level of estrogen in a woman's body or changes to vaginal tissue. This can cause the vaginal tissue to become thin and not produce as much natural lubrication, leading to dryness, bleeding, and/or pain during sexual activity. Dyspareunia can severely impede a woman's sexual desire and ability to become aroused, and can also have a profound impact on a woman's self-esteem and her relationship. All of this, coupled with the stress and anxiety of cancer treatment, can be quite overwhelming to say the least.
Vaginal dryness is a common issue faced by women who have undergone cancer treatment, and can have a profound impact on her quality of life, self-esteem, and relationships
Risk of Infection
An increased risk of infection can be extremely worrisome for a woman undergoing cancer treatment, as she is already at a much higher risk of infection. Chemotherapy, hormonal therapy, radiation therapy or surgery can affect the immune system's ability to function at full strength. Because of this, the risk of infection is increased and it may be more difficult to fight off an infection that does ensue. For someone whose immunity is compromised due to cancer treatment, even a urinary tract or vaginal infection can lead to more serious complications.
RepaGyn® is a hormone free option to help relieve vaginal dryness and help promote healing of vaginal tissue
Sources:
Vaginal Atrophy. Mayo Clinic. April 2013. Retrieved March 8, 2015, from
http://www.mayoclinic.org/diseases-conditions/vaginal-atrophy/basics/symptoms/con-20025768
Treatment Induced Menopause. Canadian Cancer Society. Retrieved March 8, 2015, from
http://www.cancer.ca/en/cancer-information/diagnosis-and-treatment/managing-side-effects/treatment-induced-menopause/?region=bc
Sexual Problems for Women. Canadian Cancer Society. Retrieved March 8, 2015, from
http://www.cancer.ca/en/cancer-information/diagnosis-and-treatment/managing-side-effects/sexual-problems-for-women/?region=bc
Vaginal Dryness and Painful Intercourse. OncoLink. Penn Medicine. November 24, 2014. Retrieved March 8, 2015, from
http://www.oncolink.org/coping/article.cfm?c=535&id=1169
Managing Menopause. Journal of Obstetrics and Gynecology Canada (JOGC). September 2014. Volume 36, Number 9,
Supplement 2, pS35. The Society of Obstetricians and Gynecologists of Canada. Retrieved March 8, 2015, from
http://sogc.org/wp-content/uploads/2014/09/gui311CPG1409Eabstract1.pdf
Infection. BreastCancer.org. February 6, 2015. Retrieved March 8, 2015, from
http://www.breastcancer.org/treatment/side_effects/infection
Menopause Symptoms: Vaginal Changes. BreastCancer.Org. February 9, 2015. Retrieved March 18, 2015, from
http://www.breastcancer.org/tips/menopausal/treat/vaginal-changes